Oct 31 Match Challenge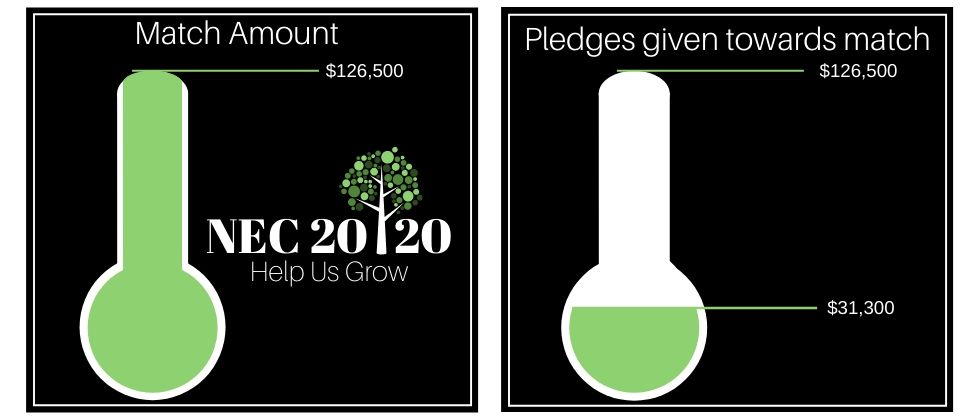 Meet the Match: We have a donor challenge of $126,500!
A group of people committed to closing the gap for our capital campaign believe we can do it together. Please keep in mind that you can spread your pledge out over 3 -years. We can make it happen together! Please consider helping us meet this generous match of $126,500 by
submitting your pledge online by Oct. 31
.
How can I give to the NEC 20/20 Campaign?
---
There are many ways to make your donation to the NEC 20/20 Capital Campaign detailed below. The most common ways to contribute include gifts of cash, check or a three-year pledge.

You can make a one-time and recurring gifts via credit card* or automatic withdrawal on this page through our secure Online Giving.

*Please complete this online pledge card first!

By Check: Make payable to "New England Chapel" with "NEC 20/20" in the memo and mail to P.O. Box A, Franklin, MA 02038.
Online Giving Options:

Thank you for your gift to NEC.

*(Please note, a 2.6% fee is charged to NEC for credit/debit card donations)
Check out Kim's story of following a nudge to give...
Giving FAQs and Suggested Giving Plans
1. How much should I consider giving to the capital campaign?
Answer: How much you give is entirely a personal decision and any amount large or small is deeply appreciated and needed if we are to succeed. However, if you are looking for suggestions on the amount to give to the capital campaign, standard guidance is to consider a gift two to three times more than what you currently give to NEC on an annual basis. Gift plans and payment schedules are included in the table below.

2. Does my Capital Campaign gift replace my regular giving?
A: We hope you prayerfully consider continuing with your regular gifts and tithes in addition to giving to the Capital Campaign. Regular contributions from our members are absolutely essential for NEC to maintain daily operations, pay bills, provide mission support, etc.

3. What is a three-year pledge?
A: A pledge is a dollar amount you are spiritually committing to over a three-year period and can be paid in monthly, quarterly, or annual payments. Unlike private business, a pledge is considered collateral for the church construction loan. Pledges are also tax deductible gifts. We will begin accepting pledges for the NEC 20/20 Capital Campaign in the coming weeks.

4. Is my pledge to the NEC Capital Campaign legally binding?
A: While the pledge is not a legal document, it is an act of faith to carry on the future of New England Chapel and to provide for future generations. It is a spiritual and financial pledge that one undertakes with generosity and commitment.

5. Can NEC accept gifts other than cash?
A: Yes. Gifts of stock and certain other items of value can be donated towards the capital campaign. Please contact NEC Finance Administrator Jen Mayer to inquire about these options.

6. When do I make my payments? Do I need to make a payment when I make my pledge?
A: Once you have settled on a pledge amount to the capital campaign, your pledge payments will begin immediately. An initial contribution is encouraged with a completed pledge form (coming soon). Pledges will enable NEC to obtain a construction loan.

7. What if I want to sponsor a gift or memorialize a specific part of the new building project?
A: Gifts or pledges to fund a specific part of the new building and/or memorial gift options are welcome and can be discussed with Pastor Mike Laird. Pastor Mike, in consultation with the Elders and Fundraising Committee, has final discretionary authority in memorial and specific gift options. Memorials can be reserved by contacting Pastor Mike at the NEC Office - 508-541-9078.

8. How will donors, gifts and pledges be recognized for the new building?
A: The current proposal for donor recognition is for a special display to be featured in the newly constructed facility that recognizes individual donors, families or memorializes loved ones. Other avenues of recognition or memorial are at the Pastor's discretion in consultation with the Elders and Building Committee.

SUGGESTED GIFT PLANS - PAYMENT SCHEDULE
| | | | | | |
| --- | --- | --- | --- | --- | --- |
| Total Pledge | Annually | | Quarterly | | Monthly |
| $100,000 | $33,334 | or | $8,334 | or | $2,778 |
| $75,000 | $25,000 | or | $6,250 | or | $2,084 |
| $50,000 | $16,667 | or | $4,167 | or | $1,389 |
| $40,000 | $13,334 | or | $3,334 | or | $1,112 |
| $30,000 | $10,000 | or | $2,500 | or | $834 |
| $20,000 | $6,667 | or | $1,667 | or | $556 |
| $18,000 | $6,000 | or | $1,500 | or | $500 |
| $15,000 | $5,000 | or | $1,250 | or | $417 |
| $10,000 | $3,334 | or | $834 | or | $278 |
| $7,500 | $2,500 | or | $625 | or | $209 |
| $6,000 | $2,000 | or | $500 | or | $167 |
| $1-$5,999 | Varies depending on pledge amount | or | Varies depending on pledge amount | or | Varies depending on pledge amount |
All gifts, regardless of the amount, are very much appreciated. A 10% initial gift is encouraged. Memorial opportunities are available for donors. They can be designated to remember a loved one or to honor a cherished family member. Donors may pay their gift in full or choose to make an initial gift followed by periodic installments. All gifts are tax deductible.